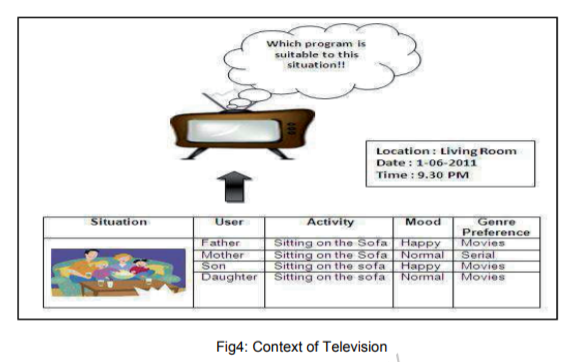 In this paper authors have proposed a design of TV program and settings recommendation engine utilizing contextual parameters like personal, social, temporal, mood and activity. In addition to the contextual parameters the system utilize the explicit or implicit user ratings and watching history to resolve the conflict if any while recommending the services .The System is implemented exploiting AI techniques ( like ontology, fuzzy logic ,Bayesian classifier and Rule Base) , RDBMS and SQL Query Processing .
The motivation behind the proposed work is
i) to improve the user's satisfaction level and
ii) to improve the social relationship between user and TV.
The context aware recommender utilizes social context data as an additional input to the recommendation task alongside information of users and tv programs.
Further authors have analyzed the recommendation process and performed a subjective test to show the usefulness of the proposed system for small families.
General Terms : Artificial Intelligence, Context Aware Computing , Ubiquitous Systems. Keywords Ubiquitous, context, recommendation engine, conflict, context aware tv, family preference, role, age, social status, favorite program, automatic, fuzzy logic, mood, activity.
For Complete Paper follow the link below :
https://www.ijcaonline.org/archives/volume29/number4/3556-4889