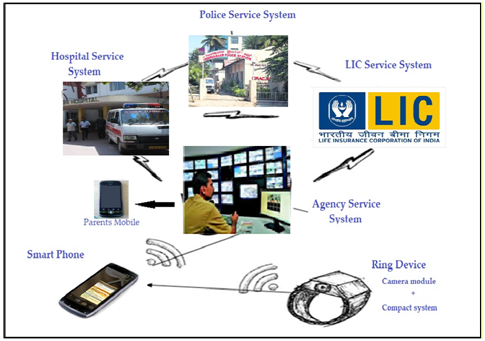 Internet of Things has set of real world objects that allow for connecting and monitoring the real world objects or things through the Internet. Ensuring personal safety and detecting physical assaults are critically important issues in the real world environment. During an emergency situation, the person has no time to call for helping through his/her mobile phones. In this work, the proposed system provides the real time emergency services to human beings in various emergency situations like road accidents, kidnap cases, health issues, attention toward the aged individuals, person in trouble, women harassment, and explains new or unknown places in the real world environment. It is an integration of two sub-systems like wearable finger ring device system and emergency service systems. Here each service system will communicate with one another for exchanging the information regularly. Finally, the proposed system is implemented in terms of efficiency.  The implemented project work provides special method and apparatus for real time emergency service to needy people. It is an integration of three apparatus, mainly wearable finger ring (WFR) device, smart mobile phone device and four service system for services. This project work provide services to human beings in various situations like, emergency conditions, attention towards aged individuals, health issues, person in trouble, accidents, children and women emergency notifies to parents, relatives, friends & loved one and also provides security services by the service.
References
P. Pandey, R. Litoriya.: An IoT Assisted System for Generating Emergency Alerts Using Routine Analysis. Journal of Wireless Personal Communications, Vol. 11, No. 1, pp.1-22, 2020.
M. Manas, A.Sinha, S. Sharma, Md. R., Mahboob.: A Novel Approach for IoT based Wearable Health Monitoring and Messaging System. Journal of Ambient Intelligence and Humanized Computing, Vol. 10, pp.2817–2828, 2019.
P. Kaur, R. Kumar, M.Kumar.: A Healthcare Monitoring System using Random Forest and Internet of Things (IoT). Journal of Multimedia Tools and Applications. pp. 1-12, 2019.
S. S., Sabry, N. A., Qarabash, H. S., Obaid.: The Road to the Internet of Things: A Survey. In: 9th Annual Information Technology, Electromechanical Engineering and Microelectronics Conference (IEMECON), pp. 1-7, 2019.
R. Darbar, M. Choudhury, V. Mullick.: Ring IoT: A Smart Ring Controlling Things in Physical Spaces, 2019. Available From:  https://rajkdarbar.github.io/RingIoT.pdf.
Kritika Sharma,Deepali D. Londhe Department of Information Technology, Pune Institute of Computer technology, Pune, India.Year-20183rd International Conference for Convergence in Technology (I2CT) the Gateway Hotel, XION Complex, Wakad Road, Pune, India. Apr 06-08, 2018
Jayun Patel, Ragib Hasan Department of Computer Science, The University of Alabama at Birmingham, AL, USA. Year-2018, 15th IEEE Annual Consumer Communications & Networking Conference (CCNC)
Fan Wu, Christoph Rudiger, Jean-Michel Redoute_ and Mehmet RasitYuce Department of Electrical and Computer Systems Engineering, Department of Civil Engineering Monash University, Melbourne, Victoria, Australia.Year-2018.
P. P., Ray.: A Survey on Internet of Things Architectures. Journal of King Saud University – Computer and Information Sciences, Vol. 30, pp. 291–319, 2018.
Jesudoss, Y. Nikhila, T. Sahithi Reddy.: Smart Solution for Women Safety Using IoT. International Journal of Pure and Applied Mathematics, Vol. 119, No. 12, 43-49, 2018.
Authors Details :
Dr.Ramesh M. Kagalkar and
Professor and Dean  R&D Department of Computer Science and Engineering, KLE College of Engineering Technology, Chikodi, Dist.Belagavi, Karnataka, India
Dr. Lokesh Bhajantri
Associate  Professor,  Department of Information Science, BEC Bagalkot, Karnataka, India
Linked in Id /Git Hub id / personal blog or website url:
http://rameshkagalkar.appspot.com/
https://scholar.google.co.in/citations?user=Hq-vONsAAAAJ&hl=en