We hereby invite articles and stories on the following themes in the domains of Design Thinking , Computer Science , Artificial Intelligence , Machine Learning , Deep Learning , Internet of Things , Quantum Computing, statistics and Mathematics:
Project Experience
Learning Experience
About Innovators
About Innovative Products
About Researchers and their Findings
About Startup Company and their products or services
About Well established Software Industry and their products or services
About Entrepreneurs and their success or failure stories
About Academicians and their success stories
About students and their success stories.
Assumptions , Hypotheses and Mythology
Culture and technology
Ethics and Technology
About Popular and Useful Books
About innovative Student Projects
About Innovative Research Projects
About Popular Products in the market
Design Thinking
……
Benefits of writing for TocxTen Magazine :
Recognition – People will get to know you for what you know.
Skills remain updated : Is an opportunity to practice writing creatively with skills remain engaged and updated.
Network : Expand your network and get connected with talented people world wide.
Freedom to write about what you Love : You can write and publish freely about specific topics that you enjoy and passionate.
It is a great opportunity for students ,staffs , industry professionals , creative story writer and all those who are willing to share their knowledge , experiences , imaginations , concepts , projects ,etc. with readers all around the world. E-Certificate of appreciation will be issued to all those whose technical stories gets published in the magazine.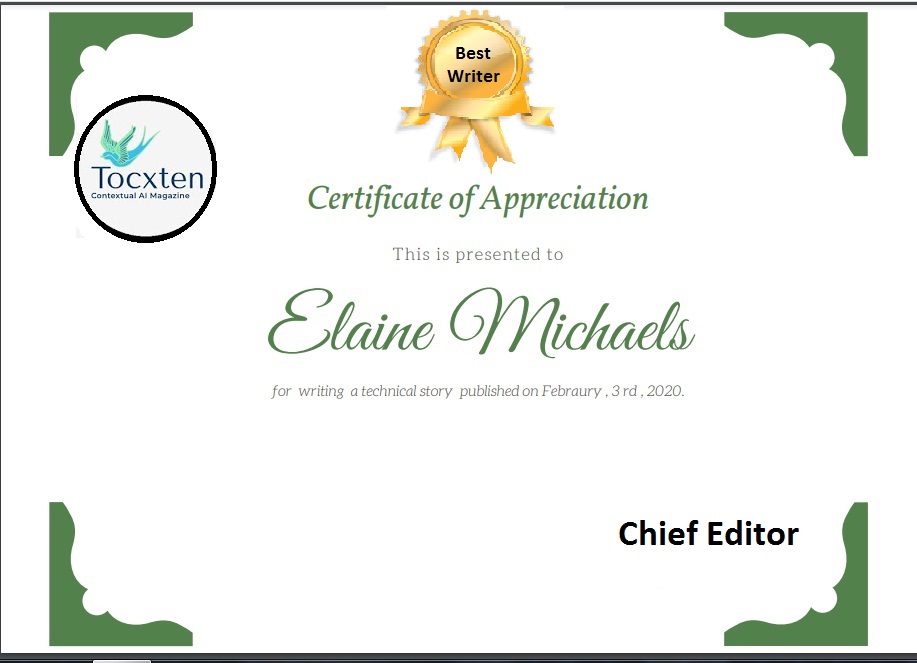 Send an e-mail to editor@tocxten.com or tocxten@gmail.com and we will get back to you with more information.
TOCXTEN MAGAZINE showcases yours best work in various domain like artificial intelligence , machine learning ,deep learning , context aware computing , cloud computing , ubiquitous computing , mathematics , biology , agriculture ,medicine , psychology , etc. We take the best of everything you send into consideration for publishing .
And while we cannot guarantee to feature every submitted link in the newsletter, we take everything you send us into consideration.
With Best Regards
Team Tocxten